Listen

Windows Media

Winamp

iTunes

Quicktime

Real Player

VLC Player
News
<!DOVTYPE HTML PUBLIC>
Current News

Sonata Arctica Release Uplifting Music Video for Jovial Song 'Life'

Read More: Sonata Arctica Release Uplifting Music Video for 'Life' | http://loudwire.com/sonata-arctica-music-video-life/?trackback=tsmclip
innish power metal heroes Sonata Arctica are creeping up on the Oct. 7 release of The Ninth Hour, which also happens to be their ninth studio album. The hyper-melodic outfit have just unveiled the music video for the empowering new single "Life."
The song opens up with a bed of lush synths and a spotlight guitar melody before the slightly energetic mid-tempo kicks emphatically guide the folksy licks that follow. Scenes of gorgeous greenery and a massive tree enter the fold, setting the tone for the natural wonder that "Life" details. An elderly woman is then seen caressing a toddler, which fades to a woman leading someone in a field as they join hands. The clip also fades back to the woman and toddler who link hands as well, furthering the powerful imagery before the uplifting chorus takes over.
"I tried desperately to have at least one positive, uplifting song on this album and maybe this is it," remarked singer Tony Kakko. "I always struggle writing positive lyrics, that's the thing. We've been called 'happy metal' many times because of the melodies and so on, but lyrics are usually something that do not walk the sunny side of the road. They contrast the music. 'Life' anyway, is telling people to find good things in life, find the things hurting and causing harm and replacing them with positive things with help of friends. Go out and be together with people, share experiences, live. I know it's a dumb thing to say, but life is better alive."
Pre-orders for The Ninth Hour can be placed through the Nuclear Blast webshop or digitally here. Catch Sonata Arctica on their North American tour this fall, which kicks off on Nov. 6 in Charlotte, N.C. A full list of stops can be found at our 2016 Guide to Rock + Metal Tours.
Past News
2014.08.19 - Enuff Z'Nuff Celebrate 30 Years With Covers Album
Celebrating an amazing 30 years as one of the hardest working bands in show business, Enuff Z'Nuff proudly presents an exciting new project -- a heartfelt salute to the music and artists who have inspired them over the course of their three-decade career! 'Covered In Gold', a collection of 12 brand new studio recordings, features an eclectic assortment of cover tunes including David Bowie's "The Jean Genie", Nirvana's "All Apologies", Prince's "When Doves Cry", Smokey Robinson's "Tears Of A Clown" and lots more, all of which showcase the group's incredibly diverse yet supremely melodic sensibility. The album also includes two rare bonus tracks, a live unplugged version of the group's 1989 hit single "New Thing" plus another cover, of The Beatles' "You've Got To Hide Your Love Away", performed live on The Howard Stern Show. The album is slated for release on August 19th trhough Deadline Records. Founder, bassist, singer and namesake of the group, Chip Z'Nuff, has led the band through its highest highs as well as its most turbulent times. The band scored two major successes in 1989 with hit singles off of their self-titled debut album, the aforementioned "New Thing" as well as the powerful ballad "Fly High Michelle", both spent 46 weeks in the Top Ten on MTV and earned them a gold record. In 1991, the band released their second album 'Strength', which had Rolling Stone magazine calling them "The Hot Band Of The Year" as well as earning them numerous appearances on The Late Show With David Letterman. The mid-late '90s brought difficult changes, but Chip kept the Enuff Z'Nuff torch burning with several tours both Stateside and overseas as well a steady stream of well received studio albums. Now an esteemed statesman of the music world, Chip continues to grow the Enuff Z'Nuff fanbase by performing shows worldwide. He has also found a new passion in broadcasing, first as a frequent guest on Howard Stern's radio program and more recently as co-host of the TV show Mancow TV.
'Covered In Gold', like Enuff Z'Nuff, is further testament to the timeless appeal of great rock melodies, and not to be missed by fans of Steven Tyler, Robert Plant and Paul Stanley. As David Letterman says of the group, "When it comes to rock 'n' roll, you don't need anybody else."
'Covered In Gold' track listing:
01. Everything Works If You Let It (Cheap Trick)
02. Stone Cold Crazy (Queen)
03. She Sells Sanctuary (The Cult)
04. All Apologies (Nirvana cover)
05. Believe It Or Not (The Greatest American Hero theme)
06. The Jean Genie (David Bowie)
07. Run For Your Life (The Beatles)
08. When Doves Cry (Prince)
09. Tears Of A Clown (Smokey Robinson & The Miracles)
10. The Stroke (Billy Squier)
11. Yankee Rose (David Lee Roth)
12. Jealous Guy (John Lennon)
Bonus tracks:
13. You've Got To Hide Your Love Away (Beatles, live on Howard Stern)
14. New Thing (live unplugged in London) named Jeb.
2014 - 06 - 21
AC/DC frontman Brian Johnson says the band are "likely" to tour before the end of the year.


They assembled in May for the first time since their Black Ice duties ended in 2010 – but work on a new album was begun without mainman Malcolm Young, who's "taking a break" as a result of health issues.
Johnson mentioned the Aussie giants' plans in a brief statement on his motor racing website, while he was thanking fans for their support for his TV series.
He said last night: "Cars That Rock was my first ever go at presenting a TV series – and even though it may not show, i was real nervous. So am very relieved that you all seem to be enjoying it.
"We hope to bring you more shows in the near future but, of course, there is the slight distraction of my day job with AC/DC – and it looks very likely that we will be on the road again before the end of the year.
"So stand by for more music – and more Cars That Rock."

Early rumours of Young's illness had given rise to a rumour that the band were poised to retire 40 years after they played their first show. But it was later confirmed that studio sessions were to take place in Canada with producer Brendan O'Brien.
Johnson said in April: "We're going to pick up guitars, have a plonk and see if anybody has got any tunes or ideas. If anything happens we'll record it."
2012.08.03
Hi guys!
It's summertime, why don't you enjoy Dreamcatcher interview + CD sampler in french Hard Rock Magazine #41 July/August now available?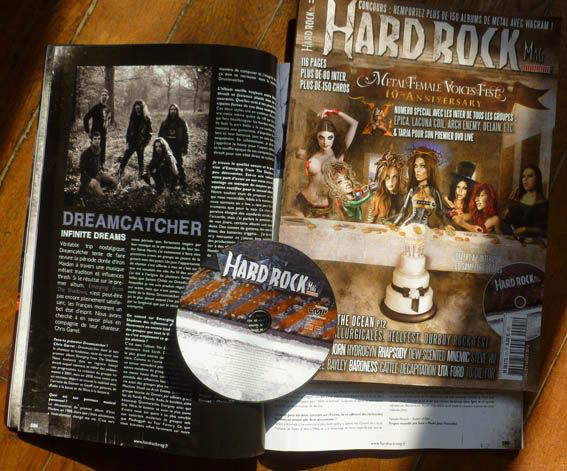 See ya
Chris
2012.08.08
FOGHAT'S ROGER EARL TO BE INDUCTED INTO THE BLUES HALL OF FAME


Foghat's contribution to classic rock will forever be great, as they penned such classic party anthems as "Slow Ride" and "Fool for the City," both of which remain rock radio standards to this day. But the group was never shy about their blues roots, and on Sunday, August 19th at Kenny's Castaways in New York City, Foghat drummer Roger Earl will be inducted into the Blues Hall of Fame.

Alongside Earl (who has kept Foghat going for over 40 years, while the other members either exited, took multi year breaks or sadly passed on), many other blues contributors will be inducted, including Joe Louis Walker, Steve Holley, and the Uptown Horns, among others. The event will be hosted by the Michael Packer Blues Band, and tickets are priced at $10 each. The ceremony begins at 3pm, and Kenny's Castaways is located at 157 Bleecker Street, New York City (ph: 917-475-1323). This legendary club will be closing its doors for good after 45 years in September.

"I'm not quite sure why I am deserving of this award because all I ever have been is a fan of the Blues and American music," explains Earl. "I kind of feel that there are so many others that are much more deserving. Lonesome Dave for one. But I do appreciate it, because hey, I AM in good company."

In addition to containing unmistakable blues elements in their songs (and scoring a hit with a cover of Willie Dixon's "I Just Want to Make Love to You"), Foghat went one step further back in 1977, when they assembled a "Foghat Blues Tribute Concert" at New York's Palladium, which included performances by such blues legends as Muddy Waters, John Lee Hooker, Paul Butterfield, Johnny Winter, Honeyboy Edwards, Pinetop Perkins, Eddie "Bluesman" Kirkland, and Willie Big Eyes Smith among others.

"That event was the highlight of my musical career," exclaims Earl. "We wanted to literally give something back to the blues. We were playing with these guys and hanging out backstage sharing a drink with them. It was pretty heady stuff."
And Foghat (who in addition to Earl, is comprised of singer/guitarist Charlie Huhn, guitarist Bryan Bassett, and bassist Craig MacGregor) remain true to the blues, as their last studio effort, 2010's 'Last Train Home,' paid tribute to the genre, with such covers as Elmore James' "Shake Your Money Maker" and "It Hurts Me Too," Muddy Waters' "Louisiana Blues," and original tunes that replicated vintage blues rock sounds ("Born for the Road," "Last Train Home," "495 Boogie"). The album also featured Rogers's long time friend, Eddie 'Bluesman' Kirkland, in one of his last recording appearances before his 2011 death.

While many rock bands have expressed their gratitude to the blues over the years, few made such an effort as Foghat to bring attention to the oft-overlooked bluesmen that helped forge rock n' roll. So it is fitting that Roger Earl will be recognized for his efforts at the Blues Hall of Fame Induction Ceremony in New York City later this month.

FOR MORE INFORMATION, VISIT:
The NY Blues Hall of Fame Induction Ceremony page at: https://www.facebook.com/events/335582476526415/
www.foghat.net
www.facebook.com/foghat
www.blueshalloffame.com
<!DOVTYPE HTML PUBLIC>
twitter
Follow and tweet us right from our site.
Donate
Donate to Hair Metal Radio
The People
Owner
Manager
Promotion
DJs
Mobile App Links
iOS

VLC Player

AOL Radio

Real Player Cloud
android

Winamp

Real Player

VLC Player

TuneIn Radio